MOLDIAG SPIN-OFF OF THE MAScIR FOUNDATION LAUNCHES A LARGE-SCALE STUDY TO EXPAND THE USE OF ITS MOLECULAR DIAGNOSTIC TEST FOR BREAST CANCER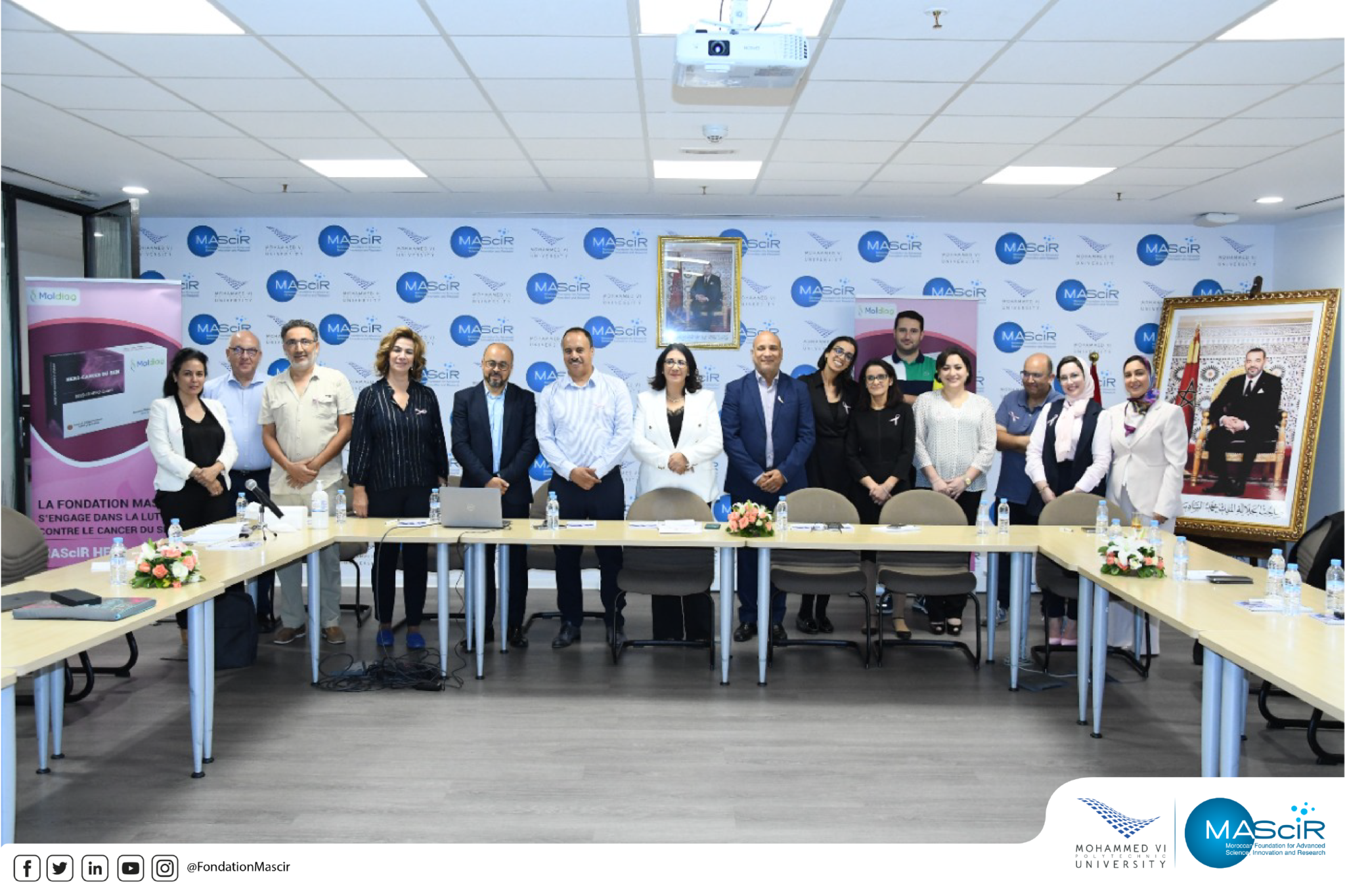 On the occasion of Pink October and in keeping with the strategy of the Ministry of Health, which this year launched a national campaign to raise awareness of breast cancer screening and early diagnosis, MOLDIAG Spin-Off of the MAScIR Foundation, is launching a large-scale study with experts in the field in order to expand the use of its molecular diagnostic test for this cancer.
It should be recalled that this test has successfully passed all the necessary steps to obtain the registration certificate issued by the Moroccan Ministry of Health as well as the CE marking for marketing beyond our borders, especially in Europe. The DMP registration certificate  – Directorate of Medicines and Pharmacy – and the CE marking follow the studies which showed a high degree of agreement in the results achieved between the MOLDIAG tests and the tests recommended according to the international and local consensus, namely: Immunohistochemistry coupled with fluorescence in situ hybridization methods if necessary and which have thus validated biologically both in Morocco and abroad the first 100% Moroccan test for the molecular diagnosis of breast cancer.
This study, which will be conducted under real-life conditions at reference centers in the field, will complete this validation process and will familiarize users with this new tool that they will now be able to use routinely to determine the HER2 status of their breast cancer patients.
We would also mention that through the production of these tests, whose price will be adapted to the human challenges posed by this pathology, Moldiag's ambition is to contribute to the Kingdom's health security. This action is fully in line with the national strategy for the generalization of medical coverage, the national strategies for the manufacture of health products and technologies and the continental strategies for public health.
Indeed, despite the existence of an effective treatment at an optimized cost thanks to the marketing of Biosimilars, the cost of diagnosis continues to be an obstacle to the early and adequate management of the disease.
One in 8 women in Morocco is likely to develop breast cancer during her life. With almost 10,500 women diagnosed each year, Morocco is particularly affected by the disease, which has the highest incidence of all cancers nationwide, accounting for 36% of cancers and 28% of deaths due to cancer in women.