MOLDIAG, SPIN-OFF OF THE MAScIR FOUNDATION FINALIZES AN EXPORT TRANSACTION IN AFRICA FOR THE BENEFIT OF CDC AFRICA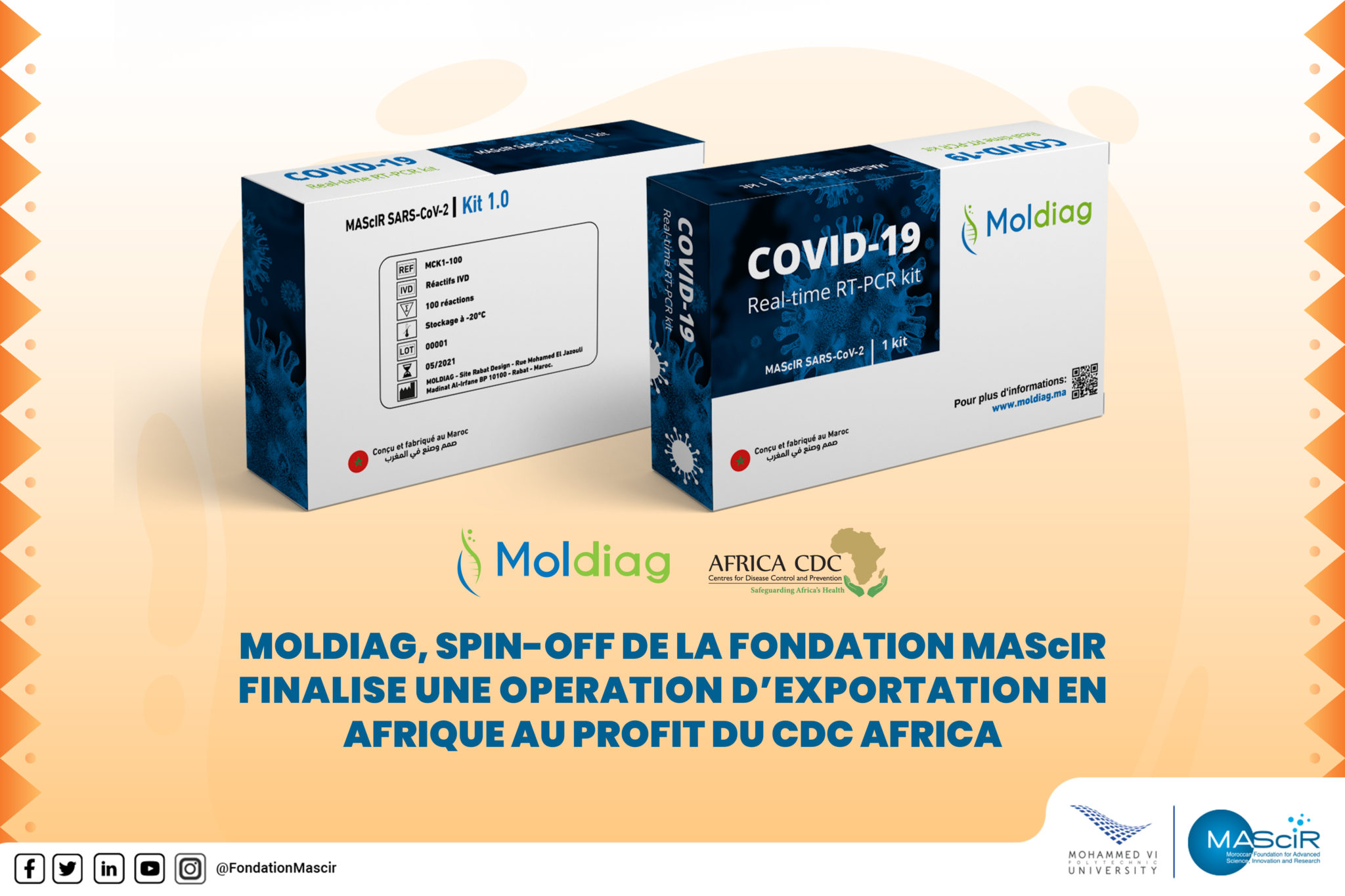 After exporting a quantity of 5,000 Covid-19 diagnostic tests to the Rwanda Biomedical Center in Rwanda in March 2022, Moldiag, a spinoff of the MAScIR Foundation, made a new export transaction on behalf of CDC Africa in September 2022 by delivering its tests to three pioneering diagnostic institutions in Africa.
In that respect, more than 36,000 Covid-19 diagnostic tests, developed by MAScIR Foundation researchers, produced and marketed by Moldiag, have been delivered to the Pasteur Institute of Tunis in Tunisia, the Pasteur Institute of Dakar in Senegal and the new public health pharmacy of Abidjan in Ivory Coast.
Each of the three institutions prepared an evaluation report to compare the MAScIR SARS-CoV-2 test with different reference tests based on real-time PCR technology. These evaluations concluded that the test provided by Moldiag has the sensitivity and specificity required to detect Covid-19 following the recommended protocol.
These export transactions reflect the commitment of the MAScIR foundation, its subsidiaries and its researchers to boost South-South cooperation and provide partners on the African continent with cost-effective solutions for the prevention and diagnosis of prevalent diseases at regional level.
As part of the exchanges between MAScIR, Moldiag and the African Center for Disease Control and Prevention, the Director of CDC Africa, Dr. John N. NKENGASONG visited the PCR kit production line in Rabat in August 2021. The latter expressed the need to put in place sustainable solutions to guarantee Africa's health security by relying on the know-how and expertise of African companies and research institutions such as Moldiag and MAScIR
It should be recalled that the MAScIR Sars-CoV-2 M diagnostic kit obtained its registration certificate from the Directorate of Medicines and Pharmacy of the Ministry of Health in June 2020. This kit also obtained CE certification in September 2022, allowing it to be marketed on the European market. Since its launch, Moldiag has produced and marketed more than 4.5 million Covid-19 diagnostic tests at the national level.
 MAScIR is an applied research institution with laboratories in Rabat and Benguerir and is part of the ecosystem of the Mohammed VI Polytechnic University.                                         
In order to make the link between research and market needs, the MAScIR Foundation has incubated its spinoff MOLDIAG, specialized in the production and distribution of molecular diagnostic kits.
Moldiag is the first unit in Morocco to be authorized for the production of molecular diagnostic kits and the only one to market tests based on 100% Moroccan engineering. Moldiag has to its credit several kits for the detection of diseases such as: tuberculosis, breast cancer, leukemia and hepatitis C.