MASCIR LAUNCHES LARGE-SCALE PRODUCTION OF 100% MOROCCAN COVID-19 PCR TEST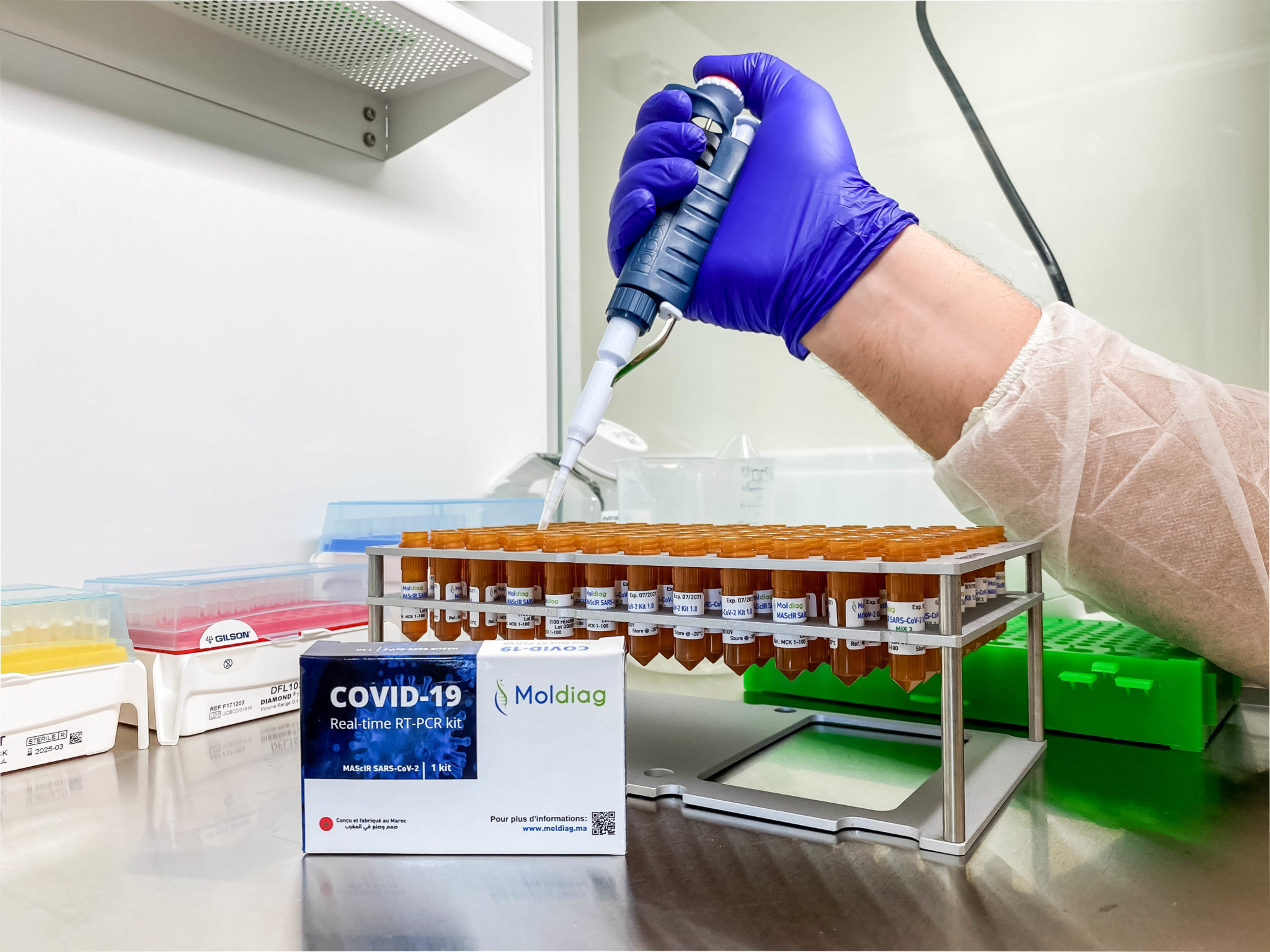 Designed and manufactured in Morocco by the startup MOLDIAG created by the MAScIR Foundation, the Sars-CoV2/Covid-19 diagnostic kit has received a first order of 100,000 units from the Ministry of Health.
A production capacity of 1,000,000 tests per month
After obtaining national and international validation of its Sars-CoV2/Covid-19 diagnostic kit in May 2020, the major challenge for MOLDIAG, a start-up subsidiary of the MAScIR Foundation, and a research and development center, was to urgently launch its industrial production unit.
It is in that spirit that MOLDIAG has accelerated the process of procurement of materials and instrumentation necessary to achieve large-scale production as was the case on June 30, 2020. On a trial basis, laboratory production has reached 10,000 Sars-CoV2/Covid-19 diagnostic tests, which have been delivered to public authorities.
After obtaining the product registration certificate from the Ministry of Health on July 21, 2020, MOLDIAG can now produce and market its kit, with a monthly production capacity of 1 million tests.
To date, MOLDIAG has benefited from the unfailing trust of the Ministry of Health with a first order of 100,000 tests and is committed to best fulfilling its new requests as well as all those from public authorities.
As for the availability of the Sars-CoV2/Covid-19 MAScIR Kit on the market, discussions are ongoing with potential local distributors. This national innovation will provide Moroccan laboratories with a competitively priced diagnostic kit, which will increase the screening capacity that is essential since the resurgence of coronavirus cases in Morocco.
It should be recalled that this test, 100% Moroccan, has undergone a series of validation processes in biological and virological reference centers, both nationally and internationally, which have attested to its effectiveness and reliability. At the end of these trials, the test was validated by national and foreign accredited laboratories, including the Royal Armed Forces, the Royal Gendarmerie and the Pasteur Institute of Paris, thus placing it at the same level as the tests used internationally
« MAScIR takes pride in serving Morocco ».
«Our medical biotechnology center has been conducting research for the past ten years in two areas: the development of molecular diagnostic kits for some infectious and cancerous diseases in Morocco and Africa, and the development of a platform dedicated to biosimilar drugs. It is thanks to this experience that we were able to quickly design, and produce today on a large scale, these COVID 19 screening kits, so necessary for our country in these difficult times» explains Nawal Chraïbi, Executive Director of the MAScIR Foundation, while not hiding her pride in serving our country.
Founded in 2007, MAScIR is a Moroccan foundation whose aim is to promote and develop research and development centers in Morocco that meet the country's needs in advanced technologies, especially in the field of medical biology.
With its vocation and ambition to actively support innovation for the benefit of the national economic and industrial fabric and thus contribute to the energy, food and health security of Morocco, the MAScIR Foundation has skilled human resources and equipment that are at the cutting-edge of technology, which have enabled it, in the space of twelve years to register 180 patents with extensions at the African regional level, to produce 650 scientific articles in internationally renowned journals and to carry out more than a hundred projects and achievements with national and foreign industrialists, thus demonstrating its maturity and its capacities in scientific and applied research.