INDUSTRIAL INNOVATION: SIGNING OF A PARTNERSHIP AGREEMENT TO SUPPORT SMEs IN IMPLEMENTING HIGH VALUE-ADDED PROJECTS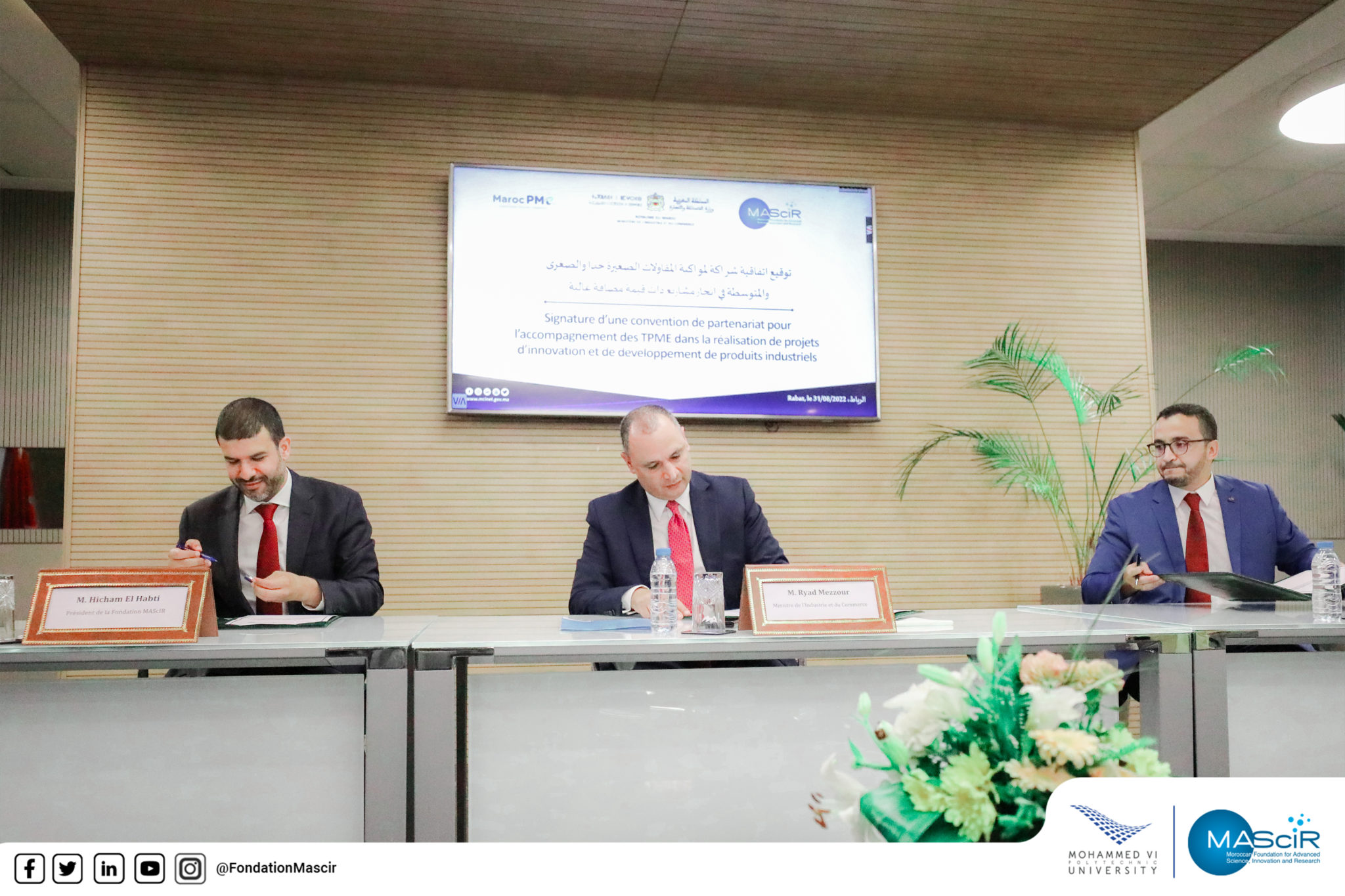 A partnership agreement to support SMEs in their R&D and industrial innovation projects was signed by the Minister of Industry and Trade, Mr. Ryad Mezzour, the Director General of the National Agency for the Promotion of Small and Medium-sized Enterprises (ANPME) (Maroc PME), Mr. Brahim Arjdal, and the President of the Moroccan Foundation for Advanced Science, Innovation and Research (MASCIR), Mr. Hicham El Habti, during a ceremony held on Wednesday, August 31, 2022, in Rabat.
As part of the business support program designed by Maroc PME and through this offer of technical assistance in partnership with MASCIR, the agreement reached aims mainly to strengthen the competitiveness of SMEs through the deployment of services for the design and development of products with high industrial added value.
Mr.Ryad Mezzour said, on this occasion, that « through this agreement, we will be able to support industrial innovation and R&D projects for the development of products carried by Moroccan SMEs ». He added that « companies eligible for this program will be able to benefit from investment support and have support from the Ministry in their industrialization.»
«Today, the entrepreneurial dynamic witnessed by our country, requires a rigorous technical and scientific support in order to stimulate a significant competitive advantage. At MASCIR, we welcome this partnership with the Ministry of Industry and Trade and Maroc PME. Our commitment to put applied research at the service of industry will thus be able to include more SMEs, which are a major element of the Moroccan entrepreneurial fabric,» said Mr. Hicham El Habti, President of MASCIR, a component of the Mohammed VI Polytechnic University.
Upon termination of this agreement, Maroc PME and MASCIR will implement these programs through an offer of technical assistance and financial support up to MAD 500 000 per company.  This approach will eventually allow companies eligible for this program to strengthen their competitiveness and support their growth.