FIGHT AGAINST FRAUD, DEVELOPMENT OF REINFORCED AUTHENTICATION SOLUTIONS, SICPA AND THE MAScIR FOUNDATION (A RESEARCH CENTER RELATED TO MOHAMMED VI POLYTECHNIC UNIVERSITY) SIGN A TECHNOLOGICAL RESEARCH PARTNERSHIP AGREEMENT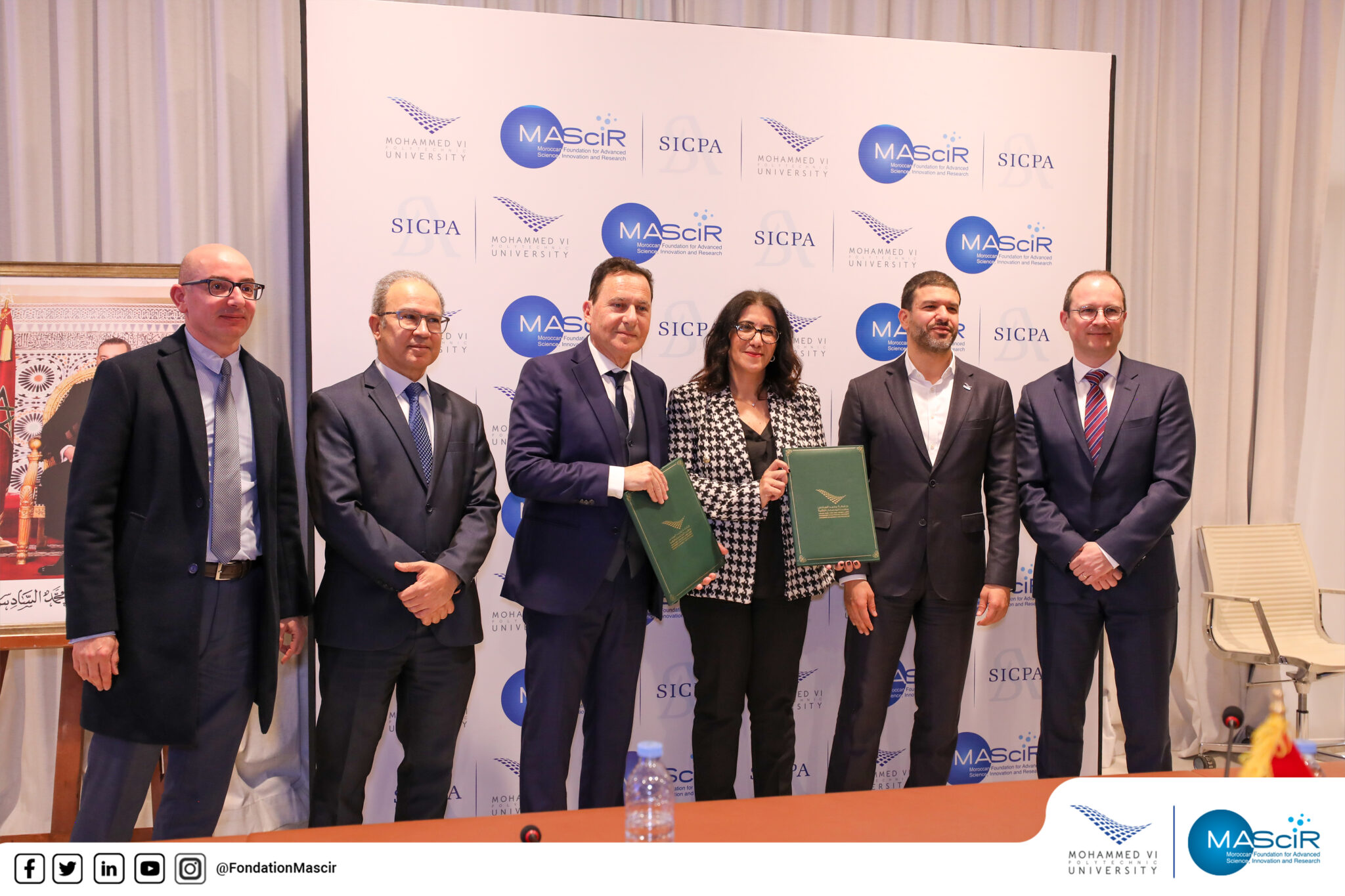 SICPA and the MAScIR Foundation (a research center related to Mohammed VI Polytechnic University) signed, on Monday, February 27, 2023, a partnership agreement in the field of research and technological development. This 5-year partnership establishes the terms and conditions of cooperation between the two institutions.
Following a series of meetings and exchanges, SICPA and the MAScIR Foundation have identified a number of research and development projects that respond to fraud control issues, and explore innovative authentication solutions that can address them. The first two projects selected to implement this framework agreement focus on microelectronics and medical biotechnology and aim to develop solutions for the African market to combat fraud in the field of drugs and inks. These two projects will be the subject of specific agreements.
Under this partnership, collaboration between the parties will also take various other forms such as industrial grants, technical services and technology evaluation and testing for licensing or technology transfer purposes.
On this occasion, Dr. Aurélien COMMEUREUC, Head of Innovation Management at SICPA, welcomed the signing of this agreement with the MAScIR Foundation and stressed that « Future projects will allow SICPA to benefit from the experience of MAScIR in order to design solutions tailored to the specificities of Morocco and more widely to the African continent. For SICPA, these projects will also be an opportunity to expand its portfolio of technological bricks in the fields of marking and detection of fraud in the field. »
Mr. Eric BESSON, President of SICPA Morocco recalled that « SICPA's strong commitment to R&D, aiming to offer governments and manufacturers innovative means to fight against fraud, counterfeiting and non-compliance of products.» Mr. BESSON added : « Our long-standing presence in Morocco, with engineers from our center of excellence, our regional coding center for highly secure tax stamps, and today's signing of this agreement with the MAScIR Foundation, demonstrate this».
For his part, Mr. Hicham EL HABTI, President of the Mohammed VI Polytechnic University (UM6P) and the MAScIR Foundation, welcomed the conclusion of this partnership and reaffirmed the vocation of the MAScIR Foundation for science, innovation and research and its willingness to respond to the current needs of the industrial fabric and Moroccan economic operators in order to promote the « Made in Morocco » brand.
About SICPA
Market leader in security inks and leading provider of secured authentication, identification, traceability and supply chain solutions, SICPA is a long-standing and trusted partner  to governments, central banks, security printers and the industry. Each day, governments, companies and millions of citizens rely on its expertise, which combines hardware-based security features and digital technologies, to protect the integrity and value of their currency, personal identity, valuable documents, e-government services, as well as products and brands. True to its purpose of enabling trust through constant innovation, SICPA's ambition is to promote an Economy of Trust worldwide, where transactions, interactions and products across the physical and digital worlds are based on protected, unforgeable and verifiable data.
Founded in Lausanne in 1927, headquartered in Switzerland and operating on five continents, SICPA employs about 3000 people. Present in Morocco since 2010, SICPA employs nearly 170 people, between its center of excellence and its regional coding centre for highly secure tax stamps.
About Mohammed VI Polytechnic University (UM6P):
Mohammed VI Polytechnic University (UM6P) is a Moroccan non-profit research university. Its main campus is located in Benguerir, near Marrakech, with branches in Rabat and Laayoune. The university is an applied research and innovation-oriented institution that is committed to economic and human development, with a focus on Africa
UM6P gives priority to research and innovation that are relevant to Morocco and Africa by focusing on topics such as industrialization, food security, sustainable development, mining, behavioral and social sciences
It brings together a number of schools and research institutes, covering science and technology (agriculture, mining, energy, medicine, chemistry, computer science…), social sciences and business administration.
The University hosted its first cohort of students in 2013 before being officially inaugurated on January 12, 2017. Since then, the university has continued to expand to become a leading research institution for collaborations between Africa and the rest of the world. As such, UM6P has entered into numerous partnerships with universities in Africa, Europe, Asia and the Americas.