Dr. Hassan Sefrioui of MAScIR nominated in the World Health Organisation Diagnostic and Technical Advisory Group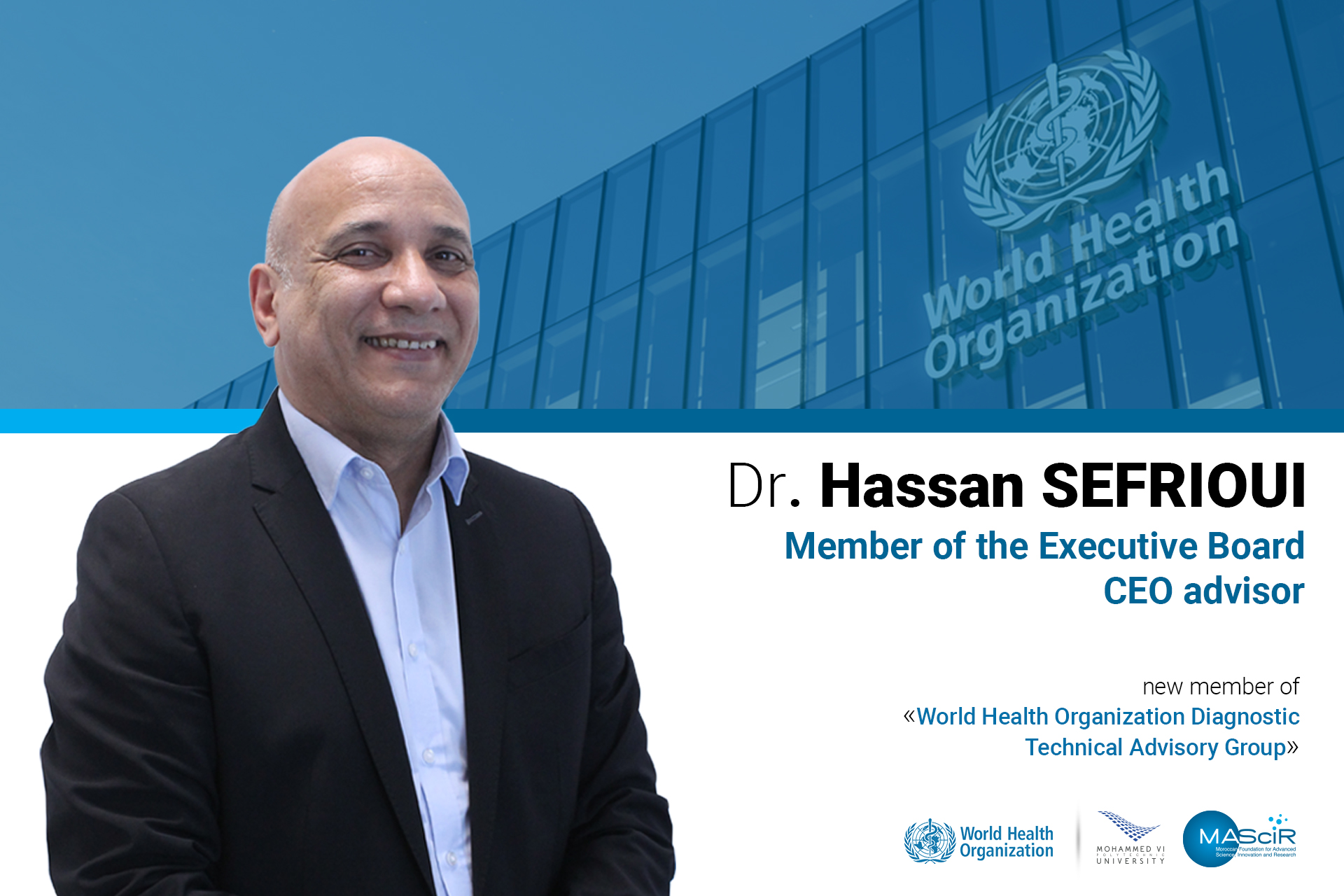 Dr. Hassan SEFRIOUI, Director, Senior Management Advisor & Member of MAScIR Executive Committee was nominated Member of the World Health Organisation (WHO) Diagnostic and Technical Advisory Group (DTAG) for the period 2021-2023. Dr SEFRIOUI will bring his expertise in diagnostic test development and production, their clinical validation, and authorities' regulations.
The Diagnostic and Technical Advisory Group (DTAG) was established by the WHO in response to the urgent need for new and improved diagnostic tools for certain specific infectious diseases. Indeed, DTAG and its cross-cutting groups will assist WHO in reviewing and prioritizing diagnostic needs, defining use cases and target product profiles (TPPs) for diagnostics tools, and facilitating test development and validation.
Dr. SEFRIOUI has over 20 years of R&D experience in both industrial and academic settings. He holds a Ph.D. in medical sciences from the University of Leuven (Belgium) and a postdoctoral position at the University of California San Diego (USA). Thereafter, he worked for 10 years as a manager within the European Biotech Industry Sector including TIGENIX, a Subsidiary of the multinational TAKEDA.
In 2010, Dr. SEFRIOUI joined MAScIR as Director at the Medical Biotechnology Center. Based on its 10 years of expertise in the field of diagnostics, the team has developed Morocco's first diagnostic kits targeting breast cancer, leukemia, tuberculosis, hepatitis C and COVID-19 infection. The later kit is produced and commercialized by "MOLDIAG"; a startup that emerged from MAScIR's Medical Biotechnology Center.
It should be noted that the MAScIR Foundation's medical biotechnology research center was designated in 2015 as an African center of excellence in cancer and infectious disease diagnostics by ANDI, The African Network for Drugs & Diagnostics Innovations.